Well as it's World Book Day today and I haven't yet documented our favourite characters to portray, I thought that instead I would reflect on how I feel about the day and would love to hear what you feel about it all.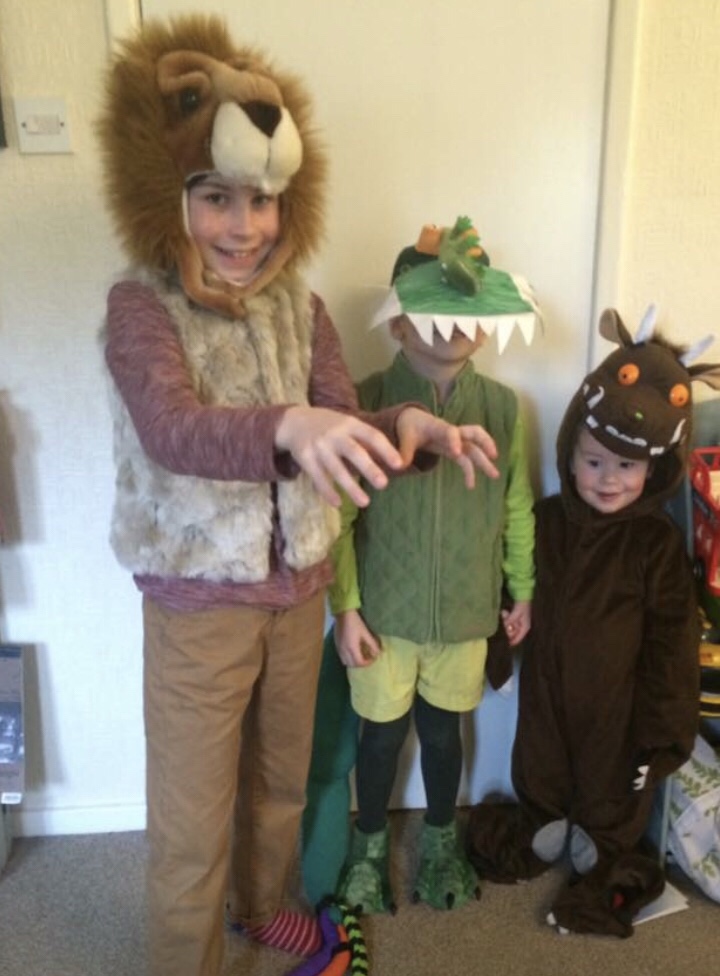 I'm just going to be honest and say it, I'm a lover of the day.  I love children books, an excuse to look at Pinterest, and I love a celebration of any kind- sorry not sorry! I know plenty of parents (some are friends)  who dread this day and are definitely haters and maybe today they were doing a happy dance if their school was closed due to the snow!  If you're still reading this, and not eye rolling too much that I'm a fan of the day then here is why it doesn't stress me out!
I tend not to dread this day as I don't feel pressure to make 'the best' costume.  We make it perfectly clear to our children that we're not buying over priced costumes and accessories.  We are a family who will use what is in their wardrobes/ dressing up boxes/ improvise with easy accessories.  This has always been the case and is not up for negotiation. We ask the kids for some thoughts and then we guide them into what we think is achievable and suggest options for them. In the above picture Fin is wearing his sisters fur gilet, clothes and a lion head which has been in the dressing up box for about 10 years! Then our Enormous Crocodile fan was again kitted out in her own clothes and an egg box creation on her head and a tail made out of stuffed tights ( borrowed from a friend).  Teddy was in a hand me down Birthday present from his sister.
In this picture Fin was in Yr 6 and becoming too cool for his sister's fake fur gilets and so wore his favourite outdoor clothes and borrowed some accessories from Daddy to become his inspiration Bear Grylls. Teddy was Captain Flynn and wore a costume that all 3 have worn at various costume days over 7 years!  Daisy rocked her dungarees and with just a simple purchase of a red ribbon was Matilda.
As you can see in these pictures we do use costumes we have already been gifted, and I'm all for grabbing a bargain in Sainsbury's after world book day has passed and stashing them for presents that can then be used for World book Day. My mum picked up a Paddington suit for £4 last year!  I do however have certain stipulations for the kids in the fact I'm not one for superhero costumes and TV character costumes unless they're also a traditional character from a book/TV programme such as Paddington.
Lastly don't be fooled into thinking I'm a crafty creator, as I'm barely able to sew, so I see this as one of very few times I can test out my craftiness with a glue gun.
So whether you're a hater or lover of producing a Harry Potter or a Willy Wonka for World Book Day, I think on the most part a lot of kids get enjoyment out of the day and we should just celebrate the fact that we get to keep these photos to laugh over when they're 18!
My final tip for any costume day is to cobble it together the weekend before and then have every single part of the costume laid out for them in the morning as rushing around on the day is enough to raise your blood pressure on a school run morning!
Happy World Book Day!